Eleganz Perspex

®

Doors
Eleganz Perspex® doors is an exciting new designer range of kitchen and cabinet doors. It's high gloss finish can be matched by no other making these doors a premium selection when choosing a gloss finish door for your kitchen, vanity, laundry or kitchenette. Eleganz Perspex® doors comprises of 18mm solid acrylic which is then cut to the size required using state of the art precision CNC machines and this is when the hinge holes are drilled. The door is then arised and polished using our diamond polishing machine leaving a high gloss finished edge.
 
Eleganz Perspex® doors is unlike any painted, polished or laminated door because it's finish is absolutely flawless and free from any orange peel or ripple found in these other doors. As far as a gloss finished door goes Eleganz is the best in its class.
 
Because Eleganz Perspex® doors are solid acrylic they are also completely 100% waterproof which makes them perfect for your outdoor alfresco kitchen and BBQ area. These doors are not only waterproof but are also U.V. stable and have a solid 10 year U.V. warranty and being made from original Perspex®.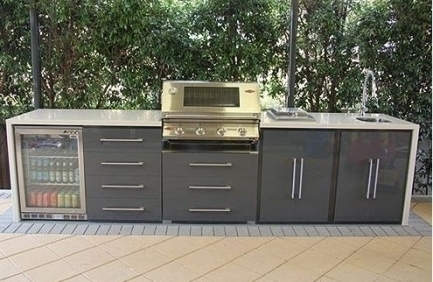 Eleganz Perspex Doors in Perth
Any home or business that wants to add a personal touch to its décor would desire custom-fitted furnishings. Kitchen and cabinet doors fall within these elements. With the right material and finish, you can completely turn the look of the place around. Productive Plastics, which specialises in plastic fabrication and custom fittings, brings to you Eleganz Perspex doors in Perth. Keep reading or give us a call to find out more.
What is Eleganz Perspex Doors
Eleganz Perspex doors are a great way to spruce up your kitchen or other room. They are a range of designer acrylic doors that offer many benefits over conventional wooden ones. The main characteristics of this product are:
High-Gloss Finish: 

Eleganz Perspex doors are mainly sought after due to the high-gloss finish that they can take up. They are made of acrylic which we polish using our diamond polishing machine to give it a glossy finish that cannot be matched by any other product.

Made to Fit: 

Eleganz Perspex doors are made of acrylic. Solid acrylic sheets that are 18mm in thickness are cut to size depending on your requirements so that you get perfectly fitting doors every time. When there are multiple doors on the order, we use the best fit to reduce cut wastage and keep costs down.

Waterproof: 

As we mentioned before, Eleganz Perspex doors are made of solid acrylic. This makes them completely waterproof and immune to any kind of moisture damage. Hence, this product is perfect for use in kitchens, bathrooms, outdoors, and any other place with a greater chance of water contact.

UV-Stable: 

Most plastic doors suffer from peeling, warping, discolouration, and other types of sun damage. Not Eleganz Perspex doors. Being made from original Perspex, they are fully UV-stable and thus, resistant to sunlight and its consequent damage. We even provide 10 years of warranty for UV damage on these doors.
Why Should You Consider Eleganz Perspex Doors
There are many advantages of opting for Eleganz Perspex doors, which include:
Durable: 

Being made from Perspex acrylic, Eleganz Perspex doors are far superior in durability to most other materials, including other types of plastic. These doors do not take any water or sunlight damage and can last for years without any change in appearance or condition. You don't have to worry about repair or replacement for a long time.

Classy Finish: 

Another reason why people are really going for Eleganz Perspex doors nowadays is the elegant finish that these doors offer. Whether you want a modern kitchen or bathroom for your home or a classy look for your office or store, Eleganz Perspex doors are the most convenient and affordable option for you.

Multiple Colours: 

One of the advantages of going for plastic doors is that you get a wide range of colour options. Eleganz Perspex doors take it a step further and allow different opacity choices. For example, at Productive Plastics, you get these doors in seven solid colours and two translucent ones.

Outdoor Usable: 

Due to the waterproof and UV-stable nature of Eleganz Perspex doors, you can use them freely for outdoor furnishings. While most other materials would fall victim to one or the other element of nature, you can keep using Eleganz Perspex doors externally for years without any problems.
Why Choose Productive Plastics
Here's what makes us stand apart from our competitors:
Advanced Technology: 

The Productive Plastics facilities are fitted with the most modern technology in the market right now. We use CNC machines and diamond polishing machines along with the latest software to make our Eleganz Perspex doors.

Years of Experience: 

Productive Plastics has been offering its high-quality products and services to the people of Perth and the surrounding areas since 1997. We have become experts in fulfilling all your plastic fabrication and product requirements in Perth.

Satisfied Customers: 

Productive Plastics is extremely mindful of the kind of experience we offer our customers. We not only want to fulfil your needs but also ensure 100% satisfaction and the faith that our customers will keep returning to us for all their plastic product needs.

Custom-Fit Designs:

Productive Plastics specialises in plastic fabrication. After all, that is the market demand we were set up to fulfil. Hence, when you buy Eleganz Perspex doors from us, we will ensure that they are cut and set up accurately according to the measurements.
Discover Our Other High-Quality Services
Our other products and services are:
Custom Design Fabrication: 

We create the plastic commodity or part you need from scratch according to the design you bring us using our advanced technology.

CNC and Laser Cutting: 

We possess two CNC profile cutters and two laser cutters that help us cut the plastic into any shape you want.

Signage: 

We create and install high-quality acrylic signs at an affordable rate using any design you provide us.

3D Signage and Lighting: 

We can customise 3D signs and illuminated letters and logos in any shape or size you want to liven up your business or event.

Splashbacks: 

Our acrylic splashbacks are safer and more user-friendly than the usual glass and tile ones. The finish is also better.

Perspex Acrylic: 

Productive Plastics is a registered Perspex distributor in Perth and WA. Get a cheaper, more durable alternative to glass, wood, metal, etc. with Perspex.

Boat Windows: 

Get your boat windows fitted with acrylic sheets of a clear or tinted finish and enjoy years of problem-free usage.

Real Estate and Shopfront Display: 

Get custom-made store and other display windows, racks, and stands for a more attractive finish.

Shopfitting: 

Fit your shop according to your vision with our custom-cut sheets and a range of other plastic products.

Plastic Sheeting; 

Find custom-cut and fabricated plastic sheeting for various architectural, commercial, and industrial purposes at Productive Plastics.

Products:

We also sell brochure holders, display cases, information holders, lead generation boxes, easels, display risers, trophies, etc.
Upgrade your home or business with Eleganz Perspex doors in Perth from Productive Plastics today. Contact us to know more.